Modèle Projecte_Aire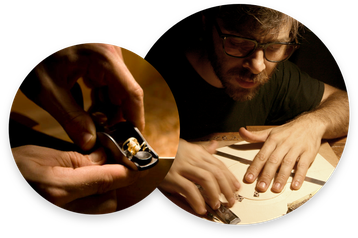 « I was born in Barcelona in 1977. I graduated in industrial design from the EINA Centre for Art and Design in Barcelona and then studied classical and flamenco guitar at the Liceu Conservatory in the same city. I was also the world trial bike champion several times. In the year 2000, I co-founded Lacreativa.com, a design studio, but in 2009 I left the world of industrial design to dedicate myself professionally to guitar-making. »
It all started the day I had to solve some tuning problems with the guitar I was using for my studies. Destiny led me to the workshop run by the Yagüe brothers, where Raúl, the younger of the two, agreed to look at my guitar and not only solved the problem but really improved it as an instrument. As my visits to his workshop became commonplace, something happened and we forged a strong friendship. Then, one day, I decided to order a new guitar from him. However, he refused to make it for me, telling me instead that if I wanted a guitar, I could make it myself in his workshop and that he would teach me. Once I had taken his proposal in, I didn't hesitate any further and dived straight in. I was completely hooked from the very first experience of chiselling wood and that's how Raúl opened up his whole universe of woods to me and passed on his passion for building these instruments. He made me his pupil and appointed himself my teacher but, above all, we were very good friends.
I visited the Yagüe workshop over six years and there, surrounded by the shavings from a thousand different woods, I met people who have been very important for my life as a guitar-maker. One of these was Juan Antonio Reyes Torres, another excellent guitar-maker. Infinitely kind, he also opened his workshop doors to me and, like Raúl, wanted to share his knowledge as a luthier with me. Another teacher, another friend. Feeling supported by both of these teachers, the day then came when I was able to get the necessary momentum and open my own workshop. That was in March 2009.
 I feel really fortunate to have met these two great guitar-makers and in addition to their mastery of this craft, I strongly appreciate their warmth and kindness. Indeed, I am deeply grateful to them for opening the doors to their workshops and, above all, to their homes as well.
 Thank you very much, Raúl. Thank you very much Juan. »